I had to let my best friend go last week.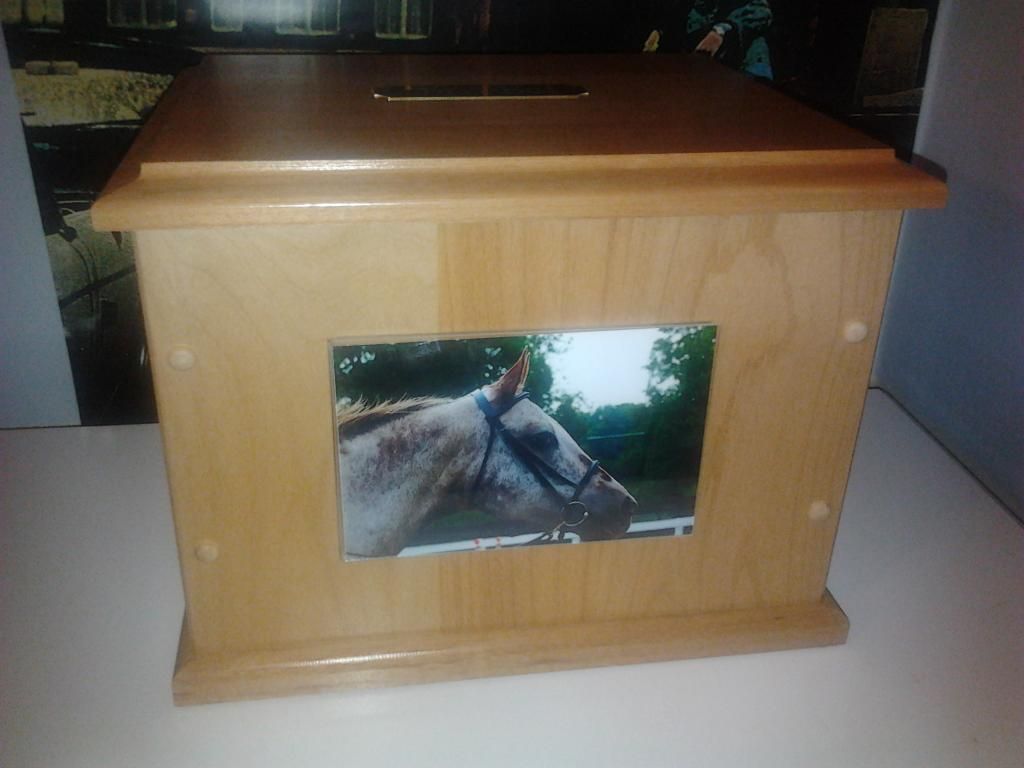 Spoiler
2013 has been a rough year. My mom got diagnosed with cancer,
Jeze had that lymph node abscess at the beginning of the year
, I lost one of my cats in June...
At the beginning of October, I found Jeze in the pasture with a nosebleed. The vet wasn't too concerned since it stopped within 20 minutes, but now I know that it was a sign of things to come. On the 29th, Jeze started to act funny. She was eating, drinking, and passing manure, but she was acting sluggish. The next morning I had the vet out, and while most of her vitals were normal, her heart rate was in the 60s. A rectal exam revealed a cecal impaction colic. We started treating it right away and the vet was confident that we'd caught it early. She came back in the late afternoon to check on her, and things weren't good. The impaction wasn't resolving. The only chance we'd have would be to get her to the medical center immediately, but she said that the odds were in our favor there. I thought about it for a few minutes...She'd always been in good health and this was the only colic she'd ever had in the time I've owned her. She was still fighting...so we decided to go. The barn owner hooked up her trailer and less than two hours later we arrived at Mid-Atlantic.
The clinic told me that no news would be good news, and to hope for no calls until morning. I got a call around 8 AM saying she was improving. When I arrived to visit, she looked awful. I thought I'd made a mistake in bringing her there. But the vets said that cecal impaction colic can take several days of treatment and to not be alarmed. It was still hard to watch. I told myself that if she didn't start feeling better soon, I'd have to make a tough call. The next morning's phone call brought some mixed news. Jeze was feeling much better and had passed most of the impaction, but they found nodules on her internal organs on that morning's ultrasound. They didn't appear to be life-threatening, but they were making her anemic. We could attempt to treat with steroids once she was out of the woods, for now the colic was the more pressing concern. She continued improving, never lost her appetite. Got her heart rate back down to the 40s where it ought to have been. Her attitude was totally normal again. We were able to remove her nasal tube, it had to be in for a few days and really irritated her throat. Her nose bled for a while after it was removed, it took her a long time to form a clot. But once the swelling went down she was drinking and feeling well enough to start steroid treatment for the nodules.
Six days after arriving, on November 5th, we were able to bring her home. I made a follow-up appointment with my vet for the 12 to do bloodwork. On the 10th, Jeze had a bad nosebleed. She was fine all day, and around feeding time it started. We knew her clotting was impaired and that it would take a while to stop. All we could do was wait it out. It'd slow down to almost a stop, and then come back. The vet said that all we could do was wait it out. By morning it had stopped, but it had been going on/off for almost 10 hours. The barn looked like a murder scene, the barn manager had to pressure wash her whole stall. On the 12th we did her blood test, the nosebleed hadn't returned so we assumed it was caused by the irritation in her nose/throat from the tubes. She had a funky smell on that side, the vet figured it was either necrotic damaged tissue or a bad tooth. The blood results showed all of her values improving, she was pretty close to normal now. She'd been acting totally normal, so everything was looking good. As long as her blood values were up, we could examine her mouth to check for a tooth problem the next week, until then it wasn't particularly pressing. She was eating mashes anyway, so if she had a bad tooth she still had no trouble eating. No turnout, so that we could keep her head up and her nose healing.
On the 18th, the vet came back to draw more blood and do an oral exam. No bad teeth to be found, so the funky smell was probably necrotic tissue. She said it'd eventually come pass on it's own, but we started her on SMZs to help things along. She was able to go out in a small paddock finally, with her 30 year-old best friend. She was very happy and acting normal. At dinner time, I brought her in and she seemed a little off. She ate some food, but wasn't so excited about it. I decided to hang around and watch her. The temperature was dropping and her sides had been shaved for the ultrasounds, so I put her winter blanket on. When I next checked on her, she was sweating. I took her temperature, and it was normal. I decided to switch to her lighter sheet, and as I was putting it on she almost went down in her stall. I immediately called the vet. She said I could watch her or have the doctor on emergency call come out. I chose to have the doctor visit, my gut feeling was that something was very wrong. On the phone, the vet asked me to take her out and turn her in a tight circle. She was very resistant. When I tried again, she planted her feet and refused to move. She was now starting to nip at her sides and try to go down frequently. She strained to urinate, and when she did it was very dark.
My mom and the doctor arrived. Jeze had normal gut sounds, normal manure, normal temperature. The rectal revealed no impaction, but the doctor could now feel tumors inside her. Nobody had been able to feel them before. Things were not improving. Her heart rate was double what it should have been. It was the same doctor who had put my best friend's gelding down a few years before, and I asked him the same question she did at the time: What would you do if this was your horse?
He told me he's start thinking about putting her down, sooner rather than later. As in, within two days. He said that if we didn't put her down, one of the turmors would eventually rupture and she'd bleed to death internally. He gave her banamine and she returned to normal. But I knew that it wasn't going to get better, so we made an appointment for the next afternoon. Doses of banamine kept her comfortable through the night. That morning, you'd have never known anything was wrong. She ate her breakfast readily. We gave her and her best buddy free run of most of the property. I fed her as much alfalfa as she wanted and a bunch of treats.
She had a really great morning. About an hour before the vet would arrive, she started to go downhill again. Her urine looked like blood. She laid down a lot. About ten minutes before the vet arrived, she laid down and refused to stand. A few moments later, she had a massive seizure. It lasted a few minutes and I thought she had died. But suddenly, she sprung to her feet. She was walking fine, but she seemed disoriented and wasn't quite herself. She was suddenly very anxious. She probably had tumors all over inside of her. If there was any way I could have known she'd have a seizure, I'd have put her down the night before. I always say that no time is ever enough with a pet, but by this point I was begging for the vet to arrive.
The vet arrived. We let her to the driveway and sedated her a little so she would be calm. Everyone had warned me that euthanizing a horse can be a tough experience to watch, that she may fall hard and twitch for some time. But it went as well as it could have. She was there, she was gone, and she fell. It was very peaceful. As awful as I felt, I was so glad that I could do this for her. She was a tough horse. She'd been fighting longer than we could have known. She'd have kept fighting until there was nothing left of her, but I couldn't let that happen. And I didn't. She had a good quality of life. I have no regrets.
She was my first horse. She taught me so much. I have so many sweet memories of our time together. She made me a stronger, more compassionate person. I wouldn't trade our time together for anything in the world. I was with her almost every day once she got sick. She was only 20, I thought we would have many more years. I still can't believe she's gone.
She usually had a bit of a grumpy face, always pinning her ears. But she was a very gentle mare. She loved to be brushed and loved attention. She gave pony rides to my inexperienced friends and even to a few young children. She was very forgiving. Everyone keeps telling me how lucky she was to have found me. But I'm the lucky one to have had her.
Rest in Peace
Jezebel
February 21st, 1993 - November 19th, 2013